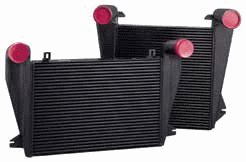 If you are looking for a charge air cooler for an International Navistar with an OEM number of 153656 then you came to the right place! 
A malfunctioning charge air cooler (CAC) can affect power output and fuel economy — it can even lead to premature piston, ring, and valve failure. Avoid these issues and help your International Navistar breathe easy for years to come with our direct-replacement CAC.
We have 23 locations to serve you!
Do you need your part today? We have locations in the following cities aross the US: Cleveland, Nashville, Secaucus, Kansas City, St Louis, Livonia, Oklahoma City, Pensacola, West Sacramento, Medford, Houston, Portland, Salt Lake City, Odessa, Joliet, Billings, Denver, Sumner, San Bernardino, Atlanta, Dallas, Orlando, and Pembroke Park. Be sure to check out our availability on the product page for a location near you.